Tips for Sharing Party Pictures!
No matter the occasion, we believe that every celebration is worth capturing. Make sure you take time out of the festivities to take plenty of snapshots, and don't forget to include yourself in a few! You'll be glad you did when you take a trip down memory lane later. Our editor Kristen has shared some great tips for taking selfies with your kids, so you don't have to teach friends how to use your phone for the whole party.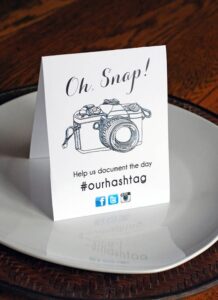 With everyone taking pictures, there's a lot of great memories that don't make it to your camera.  Creating a hashtag and sharing it in your invitation so your neighbors can find each others' pics more easily online instantly expands the size of your photo album, and you may even find something you missed! You can make a banner with the info as part of your party decor, or download this printable social media sign from Ivory Isle Designs to set out for guests (and please make sure everyone at the party is ok with pictures of their children being posted on social media first!)
Of course you can always create a private folder for everyone's photos on a cloud site like Dropbox or Amazon Cloud Drive that everyone can contribute to. Then you'll have all those memories of the big day that you can look back on anytime!
 Article and image courtesy of coolmompicks.com