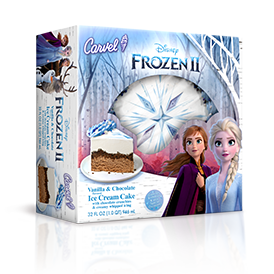 BUFFALO, N.Y. (Nov. 12, 2019) – To celebrate the highly anticipated Disney's "Frozen 2," coming to theatres Nov. 22, Carvel, in partnership with Rich Products/I Love Ice Cream Cakes, is releasing a special-edition Disney "Frozen 2" Ice Cream Cake.
The new cake, which is the first ice cream cake under the Disney "Frozen 2" moniker, gives those in "search" of the perfect treat a snowflake-themed cake with premium vanilla and chocolate ice cream, creamy whipped icing, plus the signature Carvel chocolate crunchies.
The Disney "Frozen 2" Ice Cream Cake is available starting this month at major grocery retailers, including Walmart, Publix, Kroger, HyVee, ShopRite and other participating locations. For a store near you, visit the Product Locator at ILoveIceCreamCakes.com.
"As fans go on this next journey with Disney's 'Frozen 2' we wanted to create a really special treat that captures the spirit of the film – enchantment and sweetness in the form of a snowflake cake," said Kimberly O'Brien, Shopper Marketing Manager for Rich Products' In-Store Bakery & Deli Division. "We're incredibly excited to work with Disney and Carvel to bring this new cake to grocery stores around the country for millions of 'Frozen' movie fans and ice cream lovers."
The new cake – the first and only Disney "Frozen 2" ice cream cake available – serves six to eight people and has an SRP of $14.99.
For more information, visit Rich's ILoveIceCreamCakes.com and the @ILoveIceCreamCakes Facebook page. Watch the official "Frozen 2" movie trailer here: https://youtu.be/Zi4LMpSDccc.
About Carvel
The United States' first retail ice cream franchise, Carvel® Ice Cream has become one of the best-loved and most recognized names in its industry. The company is a leading provider of premium soft ice cream and hand dipped ice cream products, as well as uniquely shaped ice cream cakes, including its signature Fudgie the Whale® and Cookie Puss® cakes. Atlanta-based Carvel currently operates over 400 franchised and food service locations. 2019 marks Carvel's 85th birthday and the brand sees no reason to slow down, or stop celebrating. Centered around a celebratory core and filled with tasty innovation, a sprinkling of nostalgia and topped with fun, Carvel is for everyone: no matter what your age, where you're from or what you do. Visit http://www.carvel.com for more information, follow us on Twitter and Instagram @CarvelIceCream or become a fan at http://facebook.com/CarvelIceCream.
Meet Rich's.
Rich's, also known as Rich Products Corporation, is a family-owned food company dedicated to inspiring possibilities. From cakes and icings to pizza, appetizers and specialty toppings, our products are used in homes, restaurants and bakeries around the world. Beyond great food, our customers also gain insights to help them stay competitive, no matter their size. Our portfolio includes creative solutions geared at helping food industry professionals compete in foodservice, retail, in-store bakery, deli, and prepared foods, among others. Working in 100 locations globally, with annual sales exceeding $4 billion, Rich's is a global leader with a focus on everything that family makes possible. Rich's®—Infinite Possibilities. One Family. Learn more at Richs.com or join the conversation on Facebook, Instagram, LinkedIn and Twitter.