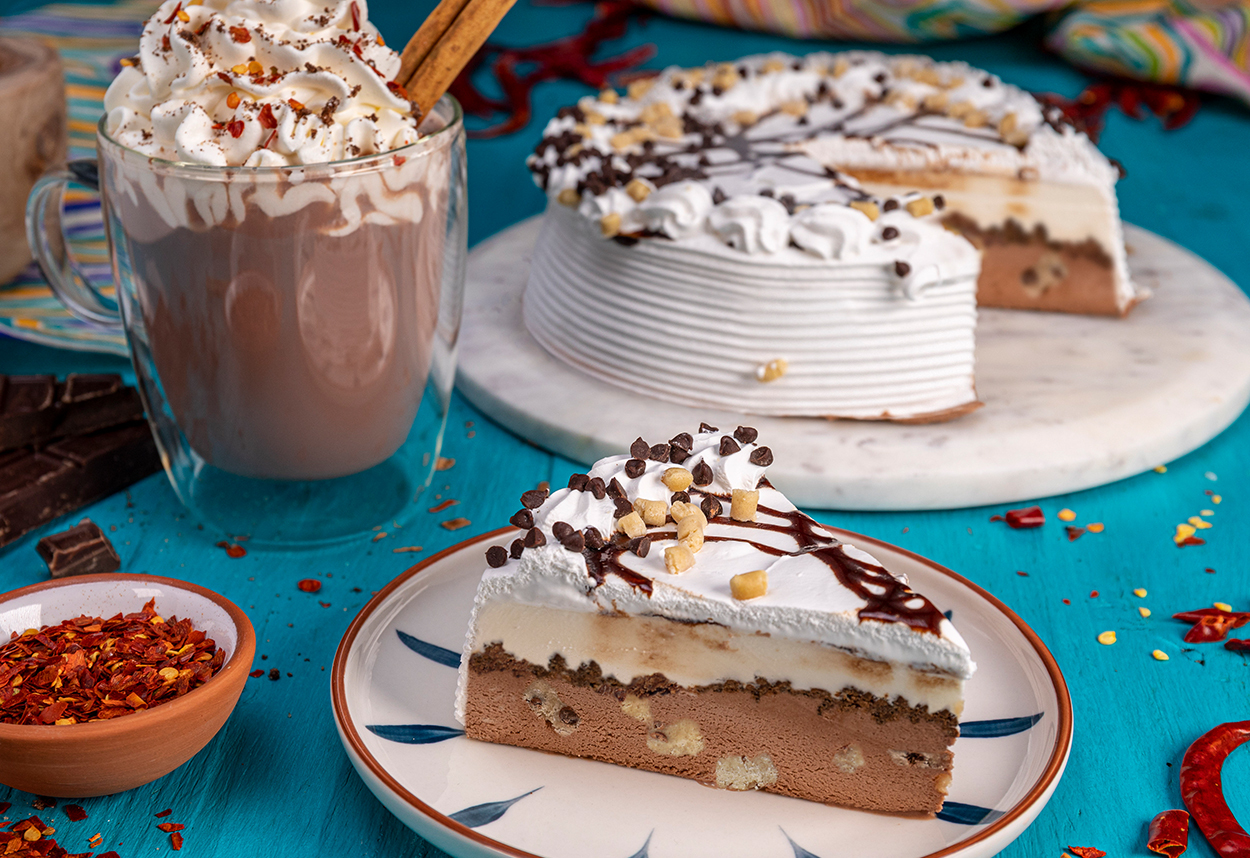 Meet Your Ice Cream Cake's New BFF: Mexican Hot Chocolate
First there were Bert and Ernie, then there were the Golden Girls, and now it's Carvel Cookie Dough Ice Cream Cake and Mexican hot chocolate. Just when the cold deliciousness of the ice cream cake reaches your belly, the warmth and spiciness of the chocolate comes in and balances everything out with a cozy little hug.
If that sounds like your cup of hot chocolate, then keep reading to learn more about Mexican hot chocolate and how to make it.
What is Mexican Hot Chocolate?
Mexican hot chocolate has been around for somewhere around 4,000 years, but this original version was quite different from what people in Mexico drink today. Its original form consisted of cacao, water, and sometimes corn.
Today, the most popular and current versions of Mexican hot chocolate in Mexico and Central America are made with cacao, sugar, Ceylon cinnamon, and milk, whereas hot chocolate in the United States is made with cocoa powder and milk (or water), and is much sweeter.
Unlike the hot chocolates described above, the Mexican hot chocolate we're going to teach you how to make is somewhat new to the scene. Invented by American and European chocolatiers, it's made with ground cacao, cocoa powder, or chocolate (such as chocolate chips or artisanal chocolate if you want to be fancy) mixed with cinnamon, chili, and/or other spices.
The main difference you'll notice right off the bat is that it has some heat to it from the chili spice and/or cayenne pepper. However, it also has a bolder chocolate flavor and is less sweet than regular hot chocolate/hot cocoa—which is the perfect complement to the richness of the Carvel Cookie Dough Ice Cream Cake.
How to Make Mexican Hot Chocolate
If you're in a rush or simply don't want to spend a lot of time making this beverage from scratch, this recipe will get you up and running in the time that it takes you to make hot water. You'll only need a handful of ingredients that are staples of any pantry.
Ingredients
3 tablespoons instant hot chocolate mix
1 tablespoon chocolate syrup
½ teaspoon ground cinnamon
1 pinch of chili powder
¼ cup milk (you can also use almond milk, oat milk, and so on)
¾ cup boiling water
Supplies
Grab a large mug and mix the instant hot chocolate mix, chocolate syrup, cinnamon, and chili powder. Next, add the milk. Making sure you don't burn your hands, carefully pour in the boiling water and stir.
Keep in mind this only makes one serving size. Feel free to double, triple, etc. for however many people you'll be serving.
Tasty Tips for Tastier Chocolate Drinks
Depending on your preference, try using different types of nut milk.
Top it off with some whipped cream or marshmallows.
For a more unique taste, use Mexican chocolate. It's made from ground roasted cacao nibs, sugar, and cinnamon and has a slightly granular texture and distinctive spiced flavor.
Use vanilla extract to add another dimension to your chocolate drinks. But remember: a little goes a long way.
No seriously, try using Mexican chocolate.
Fight the urge to use milk chocolate chips. Too much sweet will ruin the perfect balance for this drink (and also how it pairs with your Carvel Cookie Dough Ice Cream Cake). So always opt for bittersweet chocolate chips instead of milk chocolate chips.
As with all things spice, it's a personal choice. Spiciness that tastes good to one person might not taste great to another. If you prefer more of a medium-low heat, add less spice. However…
Depending on your taste buds, adding chili powder might feel like more of a medium heat. If you really want to feel the burn, try cayenne pepper – but be careful, because it's really potent.
How do you make your Mexican hot chocolate? Tag us in a photo on Instagram, and let us know how you customize yours for your unique tastes.
Summary
Article Name
Meet Your Ice Cream Cake's New BFF: Mexican Hot Chocolate
Description
How to Make Mexican Hot Chocolate: his recipe comes together in the time that it takes you to make hot water. You'll only need a handful of ingredients.
Publisher Name
Publisher Logo
Not sure where to shop? Find ice cream cakes online or at a grocery store near you.
Use our product locator