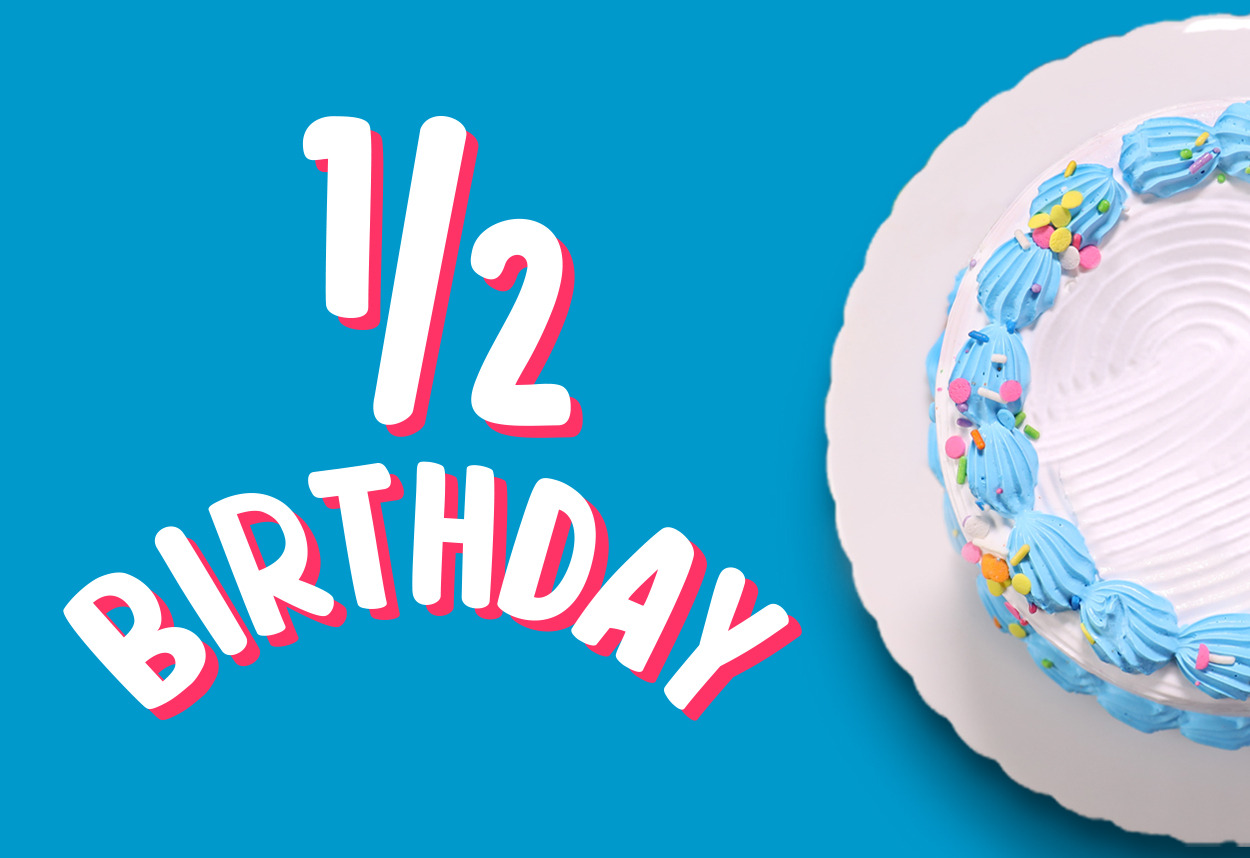 When is My Half-Birthday?
Birthdays are so much fun that sometimes you need two! A half-birthday gives you the opportunity to celebrate your unique style, personality, and character a half-year away from your annual birthday.
How Do You Calculate a Half-Birthday?
One method to calculate your half-birthday is to take your actual birthday and add six months. For example, if your birthday is January 1st, using this method, your half-birthday would be celebrated on July 1st. Warning, though, that this way of calculating isn't wholly accurate as every month includes a different number of days, and it doesn't account for leap years.
The most precise way to calculate your half-birthday is to divide the 365 days in a typical year by 2. This will give you 182.5 days. Now add those to your birthday. If you want to be extra-precise and know your birth time, you can take that half day and add 12 hours to your birth time to know when your exact half-birthday would be. For a leap year, add 183 days to your birthday instead. To simplify the calculations, try an online date calculator. And voila! A happy half-birthday to you!
You Simply Half to Celebrate!
There are many reasons to celebrate a half-birthday, the first being that they are chances to make you, your family, or your friends feel appreciated. Birthdays, in general, are fantastic times to tell someone how special they are to you and how grateful you are to have them in your life. Of course, you never need a birthday celebration to tell those around you how much they're valued, but there's something extra special about a birthday (or half-birthday) note.
Birthdays and half-birthdays come with cake! And who doesn't love that? These special days are times when we try to treat ourselves and our loved ones, hoping to spread the kindness and joy they've gifted us all the other days of the year. Half-birthdays are great opportunities to share an extra dose of joy with those we see every day and can be as simple as sharing an ice cream cake with coworkers at the office or as extravagant as throwing a half-birthday bash. The choice is yours!
Everyone Deserves a Half-Birthday Party
Another great reason to throw a half-birthday party is that they give you a different season to celebrate. This key aspect of a half-birthday comes in handy when your annual birthday falls close to a major holiday; for many who experience this, their birthdays can sometimes feel overlooked since their friends and family may have other big holiday plans.
Half-birthdays also allow for a change of seasons. Maybe you've always wanted to throw a garden party for your birthday, but your annual birthday falls in winter. Or you think a pool party would be awesome, but snow's usually on the ground during your birthday. Half-birthdays allow you to explore places, weather, and themes you might not think possible regarding your annual birthday!
Half-Birthday Party Ideas
Party themes can bring a gathering to new heights of success and fun. Half-birthdays offer a chance to try new and exciting party themes, like a "half party!" This is one of the most popular themes for half-birthday parties due to its fun play on words. The easiest way to accomplish this theme is to cut everything you serve in half, like our Carvel Party-Sized Confetti Ice Cream Cake. You can add fun decorations, too! Try covering the cut side of the ice cream cake with your favorite frosting, then writing on the cake with decorative icing. Your guests will get a kick out of this simple hosting trick, and you'll love how easily it comes together!
Half-Birthday Parties for Kids
For kids born during the summer months, half-birthdays are a great way to celebrate them during the school year. Since most birthdays happen during school time, summer babies can often feel left out or even forgotten about during class celebrations. Help make their school year memorable by bringing party treats and ice cream cake to their class on their half-birthday.
If you're looking to host a smaller family gathering or surprise one of your kids with a sweet treat on their half-birthday, try one of our smaller ice cream cakes. The Carvel Cookie Dough Ice Cream Cake, Jon Donaire Unicorn Ice Cream Cake, or the six-serving Carvel Lil' Love Original Ice Cream Cake are great options for smaller celebrations that want flavors everyone will love.
Choosing a Half-Birthday Cake
Half-birthdays can be just as fun as annual birthdays, and the possibilities for party themes and activities are endless, but we can all agree that no birthday is complete without an ice cream cake. With so many different flavors, how can you pick just one? Well, by celebrating your half-birthday, you get double the birthday cakes!
Deliciously smooth layers of ice cream meet classic cake flavors, making ice cream cakes the go-to choice for birthdays and half-birthdays. Whether you go for the unique twist of a Jon Donaire Mudd Pie Ice Cream Cake or a classic Carvel Confetti Ice Cream Cake, your friends will be inspired to throw their own half-birthday celebrations.
Half Everything for Full Fun
Now that you've calculated your half-birthday, picked a theme, cut your ice cream cake in half, and have guests on their way, it's time to add some funny half-birthday props to your one-of-a-kind celebration. Just think of cutting everything in half!
If you plan on using paper or plastic plates, give your guests a surprise they won't soon forget – cut your plates in half. Another fun idea is to make half cups. Take a red plastic cup and cut it in half. Then glue this cup to a clear plastic cup. Since the plastic cup is clear, this will give the illusion that you're only drinking from half of a cup.
Need More Half-Birthday Ideas?
Sign up for our Inside Slice for party ideas and a $5 Ice Cream Cake Coupon to celebrate your half-birthday in style delivered to your inbox.
We frequently create fun, easy ice cream cake tutorials and party ideas on Facebook, Pinterest, Instagram, and TikTok. Follow us all year round for any and every excuse to celebrate with ice cream cake. Yum!
Summary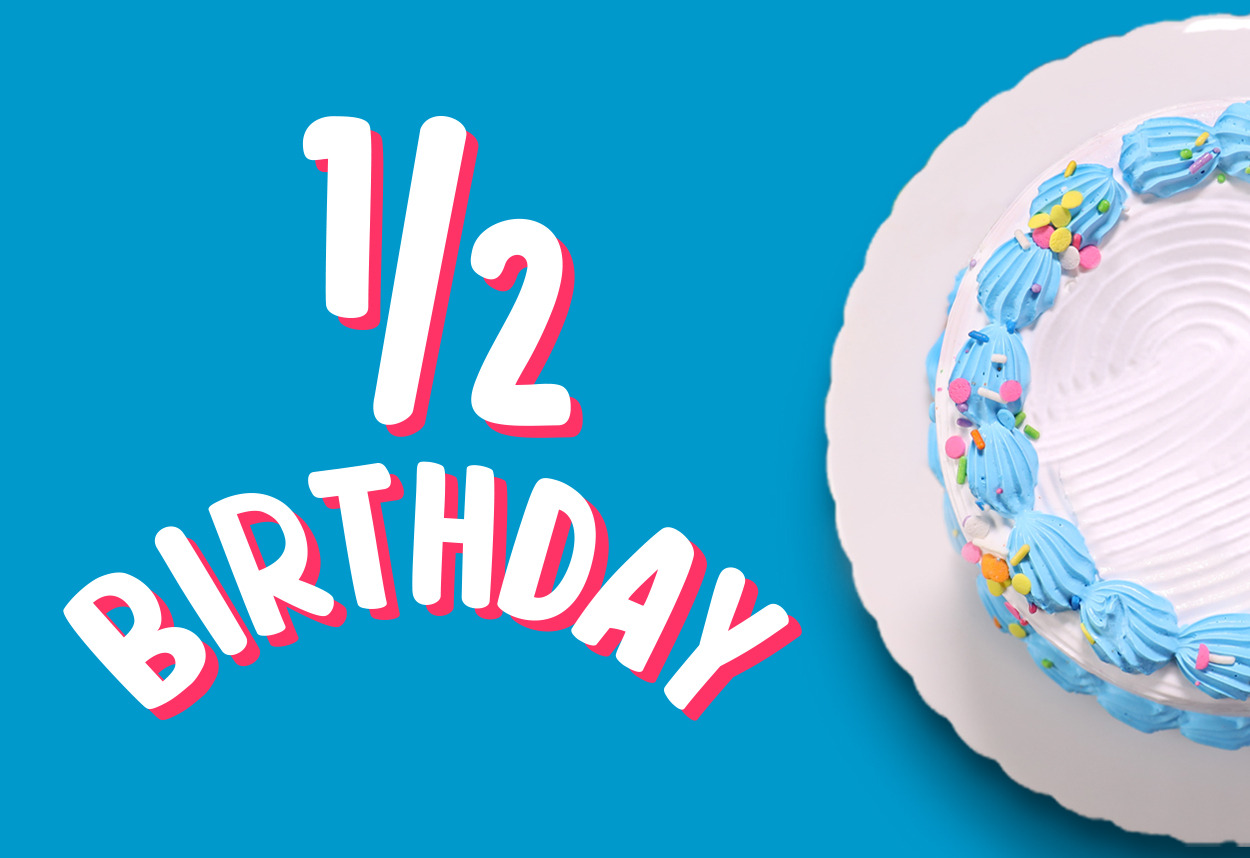 Article Name
When is my Half-Birthday?
Description
Want to know when your half-birthday is? We have the answer! Need some help celebrating? We have everything you need for the best Half-Birthday party ever!
Not sure where to shop? Find ice cream cakes online or at a grocery store near you.
Use our product locator