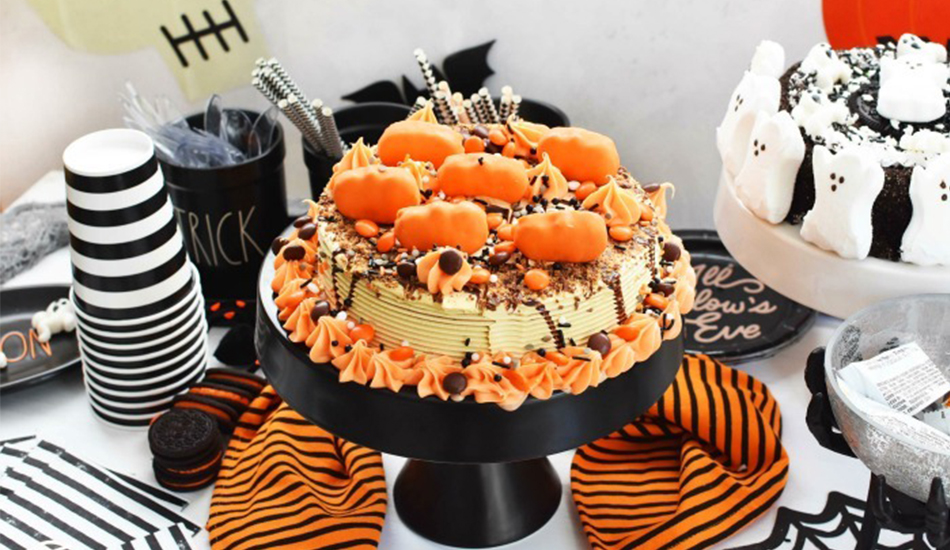 Halloween Cake Ideas
Spook up the festivities this year with a deliciously scary Halloween Ice Cream Cake. Halloween desserts are so much fun to make. All you need is an ice cream cake and a little imagination to the easiest Halloween cakes to life.
These simple Halloween cake ideas take very little time, but make a big impression. You'll find fun ideas, silly, ideas, and even a few scary Halloween cake ideas. You don't need special skills or tools, just your imagination and a few ingredients to turn any ice-cream cake into a Halloween spectacular.
So create something special this Halloween with ice cream cakes.
Working with an Ice Cream Cake
Ice cream cakes are easy to work with as long as you remember your frozen treat needs to stay frozen. Makes sense, right? If you decide to decorate your cake, work quickly and plan ahead. Gather your equipment and ingredients before you remove the cake from the freezer. You'll have about 10-15 minutes to work on your cake without it melting, and then you'll need to put it back into the freezer for a bit before continuing. So, get creative, but don't get too carried away and keep a close eye on the clock.
Spider Cake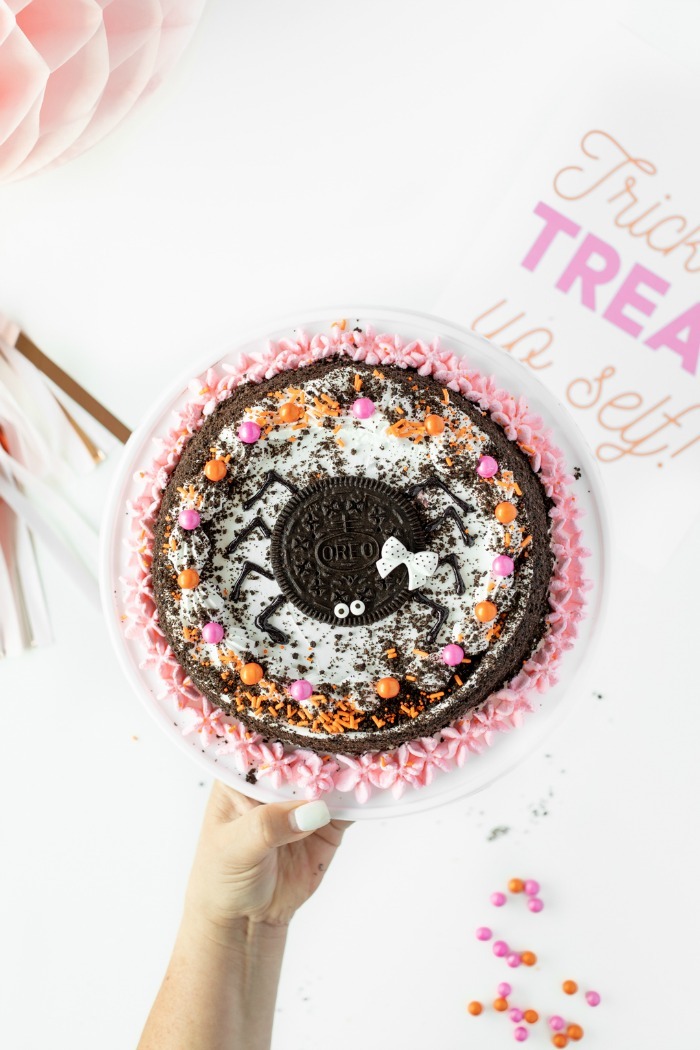 Nothing spooks like a spider! Maybe it's because they're real? Our first idea for you is this cute and creepy spider ice cream cake. The instructions are simple. Start with a frozen OREO® Ice Cream Cake. Pipe whipped cream rosettes around the perimeter of the cake. The single OREO® atop the cake makes a perfect spider body; using a black icing writer, draw eight hair-raising spider legs surrounding the cookie center. Candy googly eyes and a bow are just the finishing touches this creepy, crawly Halloween visitor needs to make an impression at your Halloween feast. Add a handful of brightly colored candies and sprinkles around the top, and you've got one scary dessert.
Freak Cake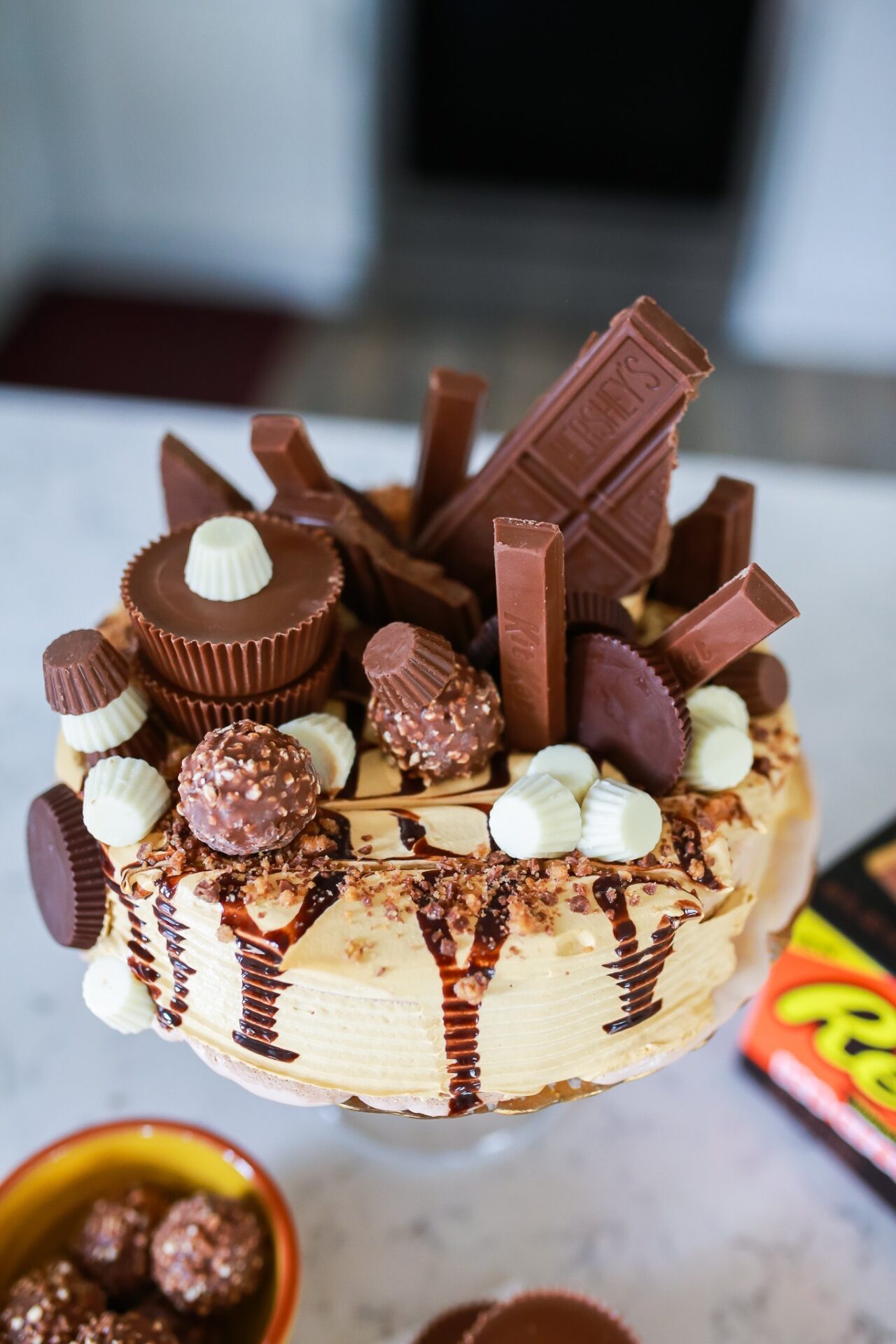 Surprise the Halloween freaks this year with an ice cream freak cake. What's a freak cake? Freak cakes are cakes piled high with a bunch of different of treats. Take advantage of this trend to create a freak cake with all of your favorite Halloween candy.
There are no rules, but we do have a few useful suggestions. First, choose candies and cakes that will complement each other, so you don't end up with any weird color or flavor combinations. Second, a great presentation requires an assortment of colors, shapes, and sizes. But most importantly, be creative. Place your candies at unusual angles, cluster them, and stack them. You'll be delighted with the results.
A freak cake is a great way to put all that Halloween candy to use. Add miscellaneous chocolate sweets to an OREO® cake. Use chocolates and peanut butter cups to add a freak factor to a REESE'S Ice Cream Cake. Don't hold back! Let your imagination go wild.
Graveyards and Ghosts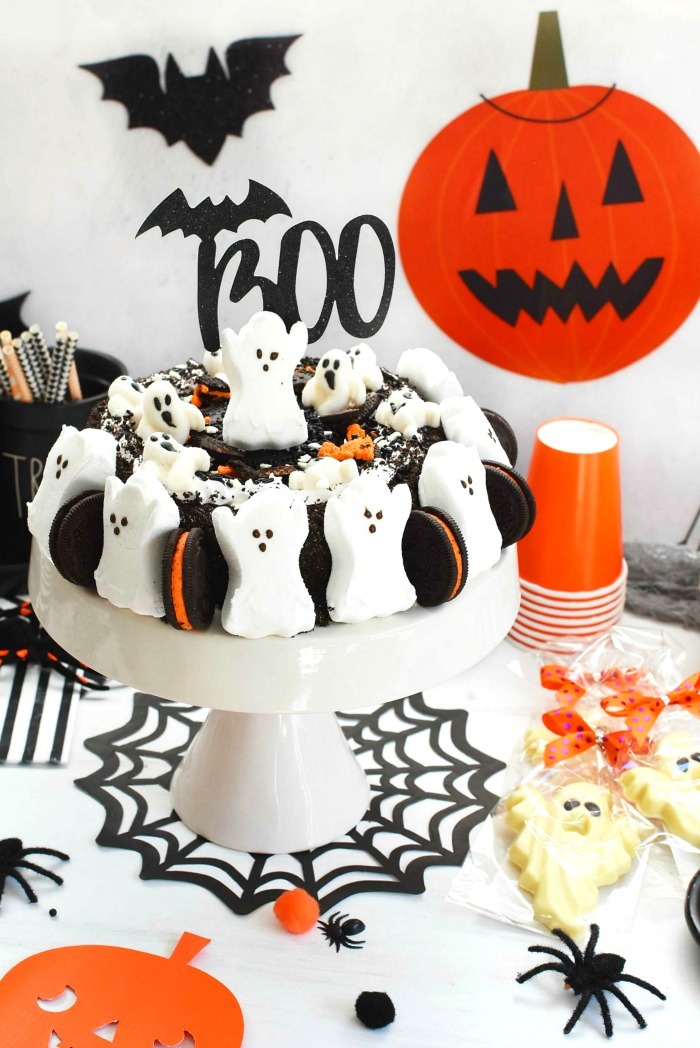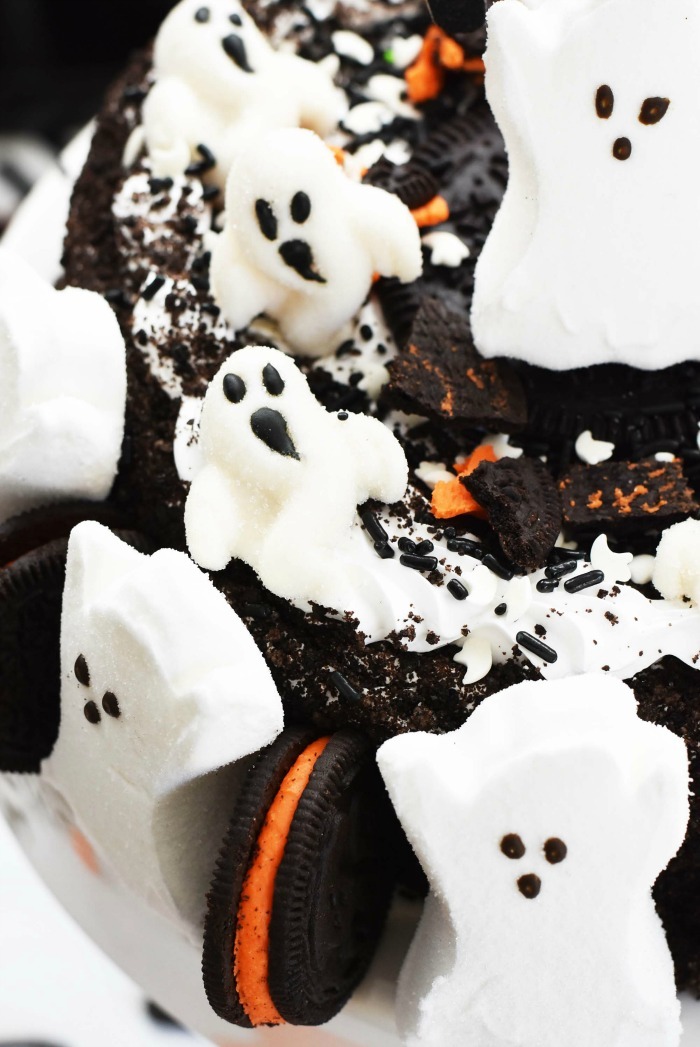 Scare your favorite Halloween guys and ghouls with an ice cream cake graveyard. Any round ice cream cake will do as a base for this spooky scene. Smooth on orange or white whipped topping and then drip chocolate sauce down over the sides and stick on cookies. Add candy pumpkins, Milano cookies marked with "RIP," or white marshmallow ghosts to create an eerie tableau and use colored sprinkles and candied googly eyes for extra garnish.
Pumpkins, Monsters, and Skeletons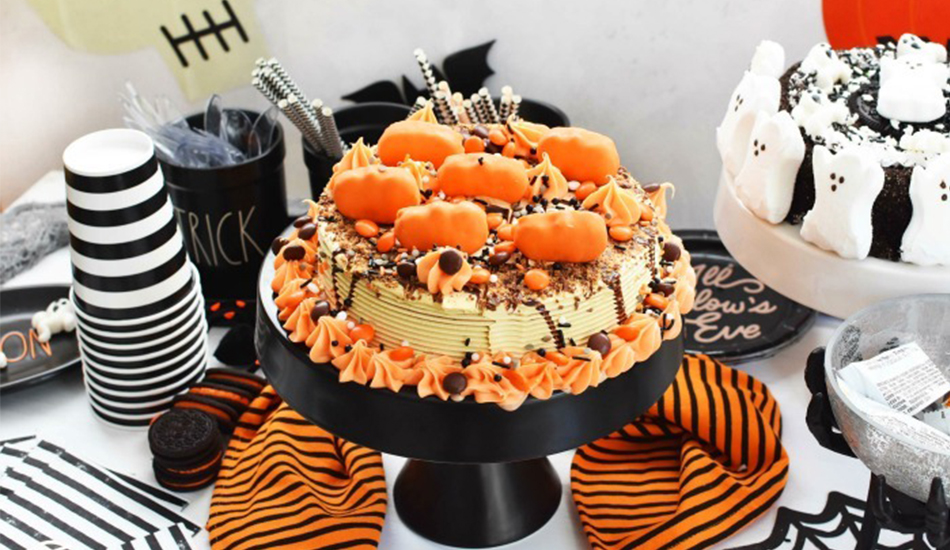 Oh, my! Here are some more tips and tricks. Frosting and piped decorations are another great way to a add some spooky flare to your Halloween desserts. Whipped cream and whipped topping also work well for ice cream cakes. While buttercreams and meringues often crack when frozen, whipped cream stays creamy.
Adding powdered sugar or cornstarch to your cream stabilizes it and helps it keep its shape, and adding a bit of food coloring lets you create almost any design you can imagine.
Cover a round with green cream and add a face for a scary monster. Use orange to cover a round cake for a charming jack-o-lantern. Or simply add black eyes and spooky teeth to a white cake for the perfect fright-night skeleton.
Where to Buy Ice Cream Cake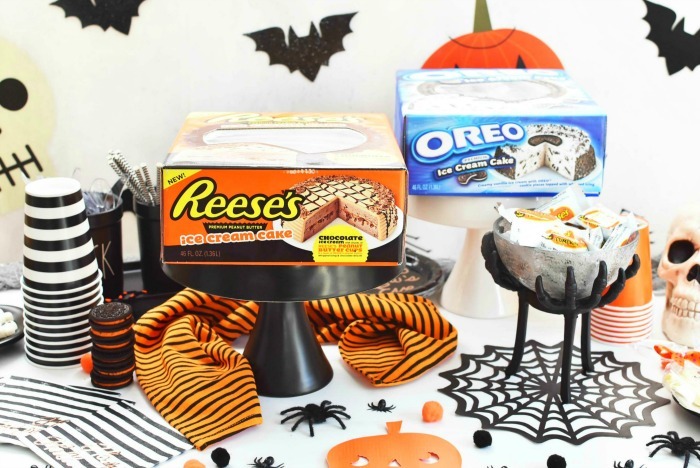 If you are not sure where to find your own ice cream cake, our Product Locator makes finding a local retailer super simple. Or, you can have a delicious, creamy ice cream cake delivered right to your door. You'll find yummy treats from Carvel, Jon Donaire, REESE'S, OREO®, and more.
All our cakes feature premium baked goods and the finest ice creams. Ghosts and goblins, young and old, love ice cream cake. Happy Halloween!
Summary
Article Name
Description
Spook up the festivities this year with a deliciously scary Halloween Ice Cream Cake. Halloween desserts are so much fun to make. All you need is an ice cream cake and a little imagination to bring your Halloween to life. Just beware the undead…
Author
Publisher Name
Publisher Logo
Not sure where to shop? Find ice cream cakes online or at a grocery store near you.
Use our product locator