Mocha OREO® Ice Cream Sandwiches
While we could personally never imagine having leftover ice cream cake, it somehow happens to other people. If you slipped the ice cream cake into the freezer in a timely manner, it's easy enough to cut yourself another slice the next day. But if that ice cream cake got a little bit melted and messy—don't throw it out! Check out the recipe below to give your leftover ice cream new life as a brand-new dessert: Mocha OREO® Ice Cream Sandwiches.
That's right. If you're wondering what to do with leftover ice cream cake, whip up this easy summer recipe for Mocha OREO® Ice Cream Sandwiches from Elle Talk. These no-chill cookies are crisp on the outside and soft on the inside. They come together quickly, which makes it easy to put together for next-day entertaining or just because!
This recipe uses OREO ® Premium Ice Cream Cake. So really this recipe is cookies inside cookies inside ice cream cake!
Here's how to make ice cream sandwiches with ice cream cake!
Ingredients
8

tablespoons

unsalted butter

(melted and cooled)

1/2

cup

white sugar

1/4

cup

light brown sugar

(packed)

1

teaspoon

vanilla extract

1

large egg

1-1/2

cups

flour

1/2

cup

unsweetened cocoa powder

2

teaspoon

espresso powder

1/2

teaspoon baking soda

1/4

teaspoon

salt

1/2

cup

chocolate chips
Instructions
Step 1:
Pre-heat oven to 350-degrees.
In a large bowl, combine your dry ingredients (flour, cocoa powder, espresso powder, baking soda, and salt). Mix until combined and set to the side.
Step 2:
In a stand mixer on low, mix the melted butter and white sugar together until pale and creamy. Butter should be slightly warmer than room temperature before using. Add the large egg and vanilla extract mixing until incorporated.
Step 3:
Slowly add in your mixed ingredients. Mix until you get a crumbly dough texture. Add in your chocolate chips and mix for 10 more seconds.
Step 4:
Using a spoon, scoop out 12 cookies. Roll them into balls and space them 2 inches apart on a greased or lined baking sheet. Add to the oven and bake for 10-12 minutes.
Step 5:
Remove from oven and let cool on the baking sheet for 15 minutes.
Step 6:
When ready to assemble, remove the OREO ®Premium Ice Cream Cake from the freezer. Slice into 6 pieces and add to a mixing bowl. Use an ice cream scoop to mix and combine into more ice cream form.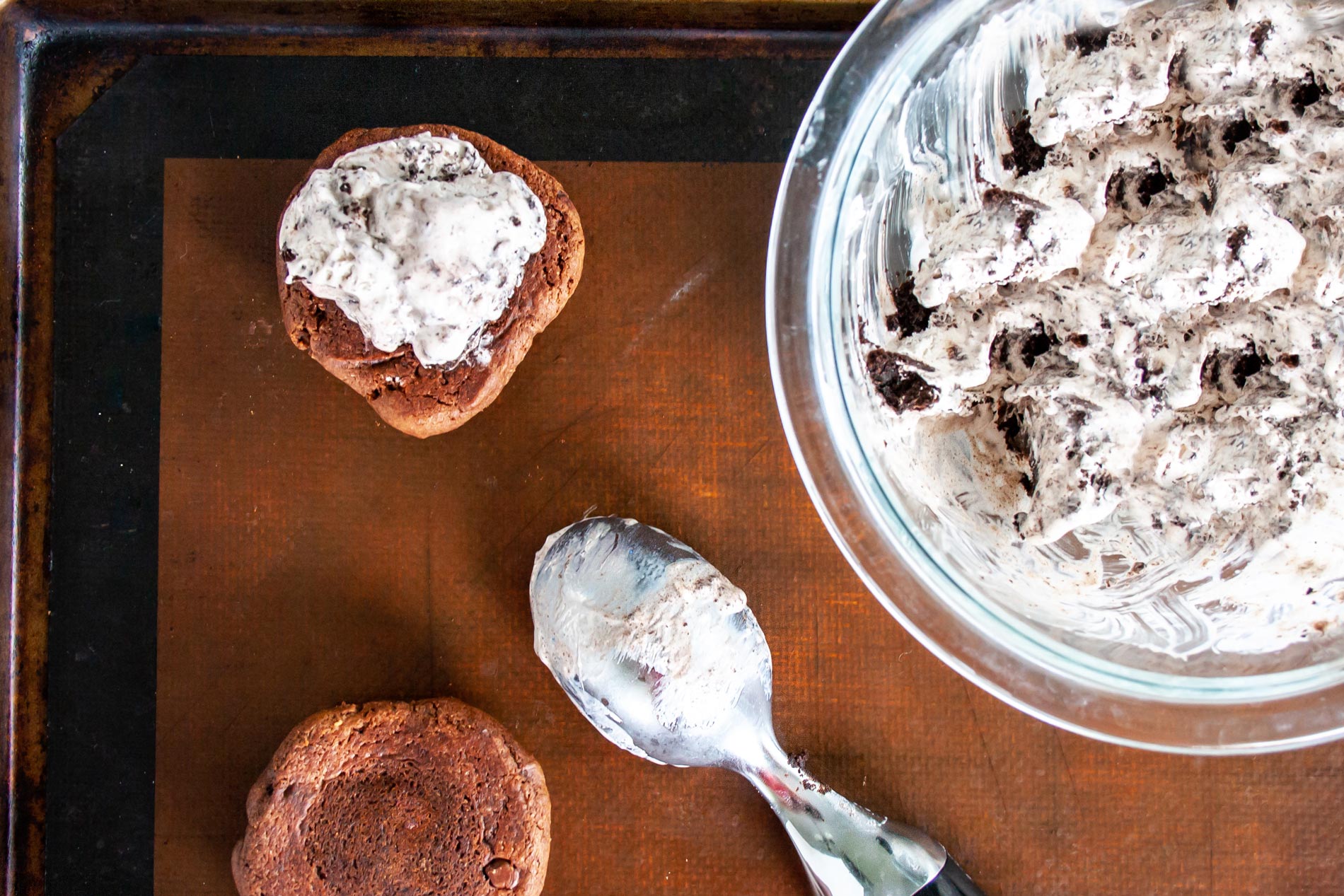 Step 7:
Scoop one scoop of the OREO® Premium Ice Cream Cake from I Love Ice Cream Cakes mixture from the bowl and place it on the flat side of a mocha cookie. Taking a second mocha cookie, place it on top of the ice cream to form a sandwich. Repeat until you have 6 ice cream sandwiches.
Step 8:
Serve immediately or put back into the freezer for later!
Not sure where to shop? Find ice cream cakes online or at a grocery store near you.
Use our product locator