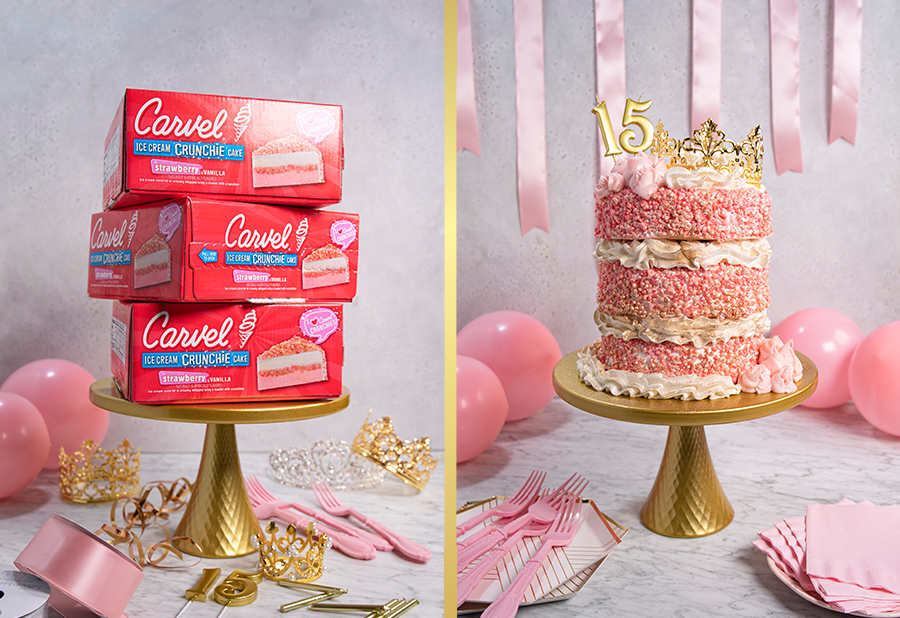 Why you should make your quinceañera cake with an ice cream cake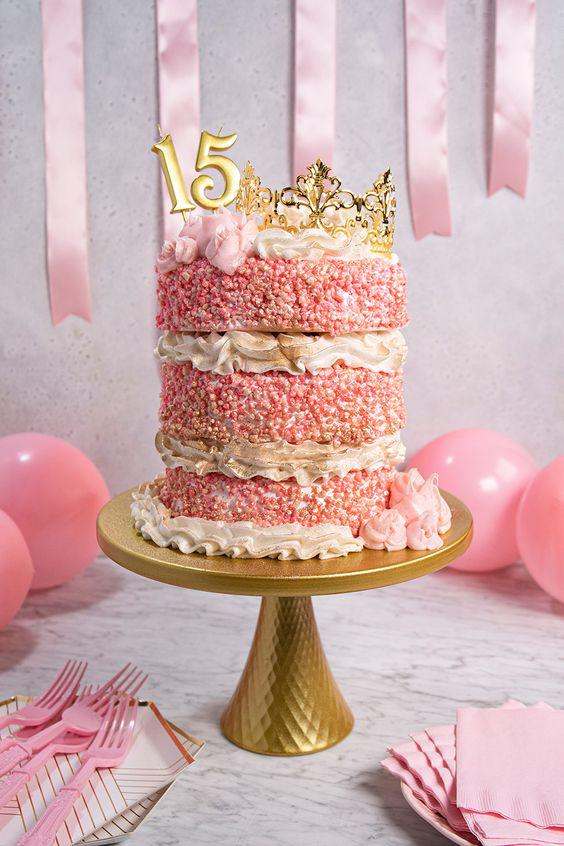 If you're looking for cake ideas for a quinceañera, you might not have considered using an ice cream cake. But they can actually be a great way to make this extra special day even more memorable. Take the one in the photo, for example. It was made from three Carvel Lil' Love Strawberry Ice Cream Crunchie Cakes and is perfect for any quince party (not to toot our own horn or anything).
What is a quinceañera?
Before we jump in, let's quickly review what a quinceañera is for anyone who's not familiar with them. In short, they're a celebration of a girl's passage from childhood to young adulthood and take place on her 15th birthday.
While traditions vary from country to country, a quinceañera typically begins with mass and is followed by a reception. During the celebration, the birthday girl is accompanied by her court of damas and chambelánes.
In many ways, a quinceañera reception is like a wedding reception. There's food, music, dancing, toasts, and a first dance between the girl and her father. There's even a fancy cake-cutting ceremony, except in this case, it's not a wedding cake.
What kind of cake is needed for a quinceañera?
Quinceañeras are a day to remember, and the cake you choose should be nothing less than extraordinary. If you want to stand out and make an impression with your guests, an ice cream quince cake checks all those boxes.
Why an ice cream cake?
As mentioned above, ice cream cakes are an excellent way to do something different and set your quinceañera celebration apart. After all, this once-in-a-lifetime event is one of the most special days in a young woman's life. Why not wow your guests with something just as special as the birthday girl?
Everyone loves ice cream
Quinceañera cakes made of ice cream kill those two proverbial birds—cake and ice cream—with the same stone. Since they're frozen, ice cream cakes are easier to work with while decorating and serving. And they can also be more cost effective—especially if you make them yourself—than buying a custom cake from your local baker. Speaking of…
Budget
Like weddings, quinceañeras can vary significantly in price, depending on what you're willing and able to spend. However, you don't need to break the cake bank to create something truly special. All you need is a Carvel Ice Cream Cake, your imagination, and a few easy-to-find supplies.
Flavor
What matters most is making sure the birthday girl herself likes how the cake tastes. Fortunately, Carvel Ice Cream Cakes come in a wide variety of flavors ranging from traditional vanilla and chocolate to caramel turtle and Reese's.
Design
Contrary to what you may think, ice cream cakes aren't just for children and don't have to be adorned with an image of Elmo or a cartoon character. You can decorate them to match any color theme, stack them, add cake toppers, flora designs, and more. Or, simply create a traditional ivory quinceañera cake to match your quinceañera dress.
If you're strapped for ice cream cake ideas, there are numerous sources of inspiration. First, you can visit bakeries in your neighborhood. It takes a bit more time, but, on the plus side, you might be able to score a few free samples.
However, you don't need to spend hours perusing custom cakes from your local baker for inspiration to strike. Instead, check out Instagram, where you can find cakes for days—including our page. If you really want to take things to the next level, head over to Pinterest. Not only are there cakes for days, you can create different boards to organize all the gorgeous cakes you like to help you hone in on a style that will leave your guests asking for more.
Did you make a quinceañera ice cream cake? Share a photo of it on Instagram and tag us so we can see your wonderful creation.
Summary
Article Name
Why you should make your quinceañera cake with an ice cream cake
Description
See why ice cream cakes are the perfect quinceañera cake for any birthday girl looking to stand out.
Publisher Name
Publisher Logo
Not sure where to shop? Find ice cream cakes online or at a grocery store near you.
Use our product locator