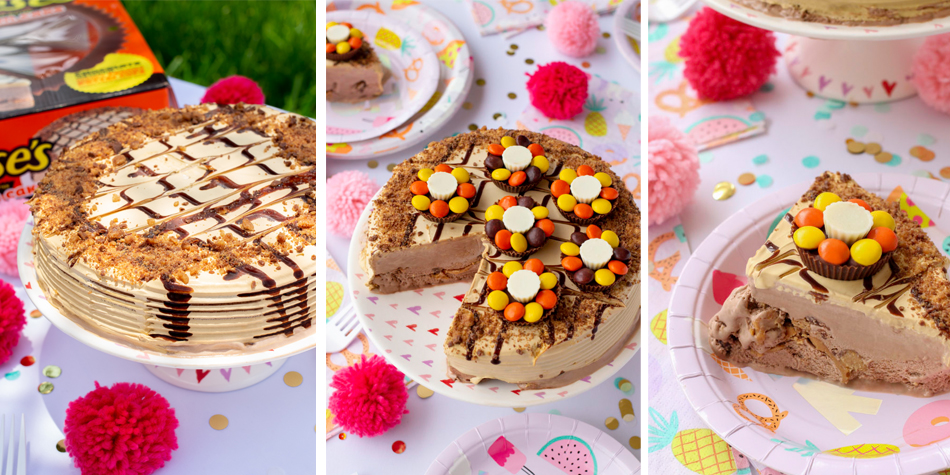 Easy Ice Cream Cake Recipes for the Holidays
The holidays are coming, and it's only polite to greet them with Ice-cream cake. These crowd-pleasing confections are perfect for holiday entertaining. They're easy to prepare, simple to serve, and guaranteed to get everyone in the holiday spirit. Ice-cream cakes are also endlessly versatile. Let's take a look at two simple recipes for ice-cream cakes and the many ways you can add your own festive holiday touches. And allow us to help take a little stress out of the holiday dessert making.
Very Berry Chocolate Ice-Cream Cake
First up, one of the easiest ways to personalize an ice-cream cake is with simple toppings like dessert sauces and fruit. In this recipe, fresh berries and chocolate sauce are added to a Carvel Double Crunch Ice Cream Cake to create an elegant and tasty dessert.
Here's what you'll need for the Very Berry Chocolate Ice-Cream Cake:
1 Carvel Double Crunch Ice Cream Cake
1 cup dark chocolate melting chips
Strawberries, blackberries, raspberries, and/or blueberries, about 4-5 of each
3-5 sprigs of fresh mint
Step by step instructions
Carefully melt the chocolate chips according to instructions on the package.
Remove the ice-cream cake from the freezer, remove from packaging (we have to say that), and place on desired serving dish.
Pour the melted chocolate over the top of the ice-cream cake, letting it drip down the sides.
Top with fresh fruit and garnish with mint.
Serve and enjoy!
---
Halloween Cake Ideas
Top your ice-cream cake with candy corn, cookies, and fall-colored chocolates instead of fruit. Maybe add a creepy plastic spider or two to the sides of your cake for an extra scary touch. For details, check out our Halloween Cake Ideas.
---
Thanksgiving Cake Ideas
Not everyone loves pie, so adding an ice-cream cake to your menu is a great idea. Using caramel sauce instead of chocolate and then tossing candied pecans on the top creates a decadent turtle ice-cream cake that's sure to please your pickiest eaters. We also love this REESE'S Ice Cream Cake topped with candy for a beautiful fall theme.
---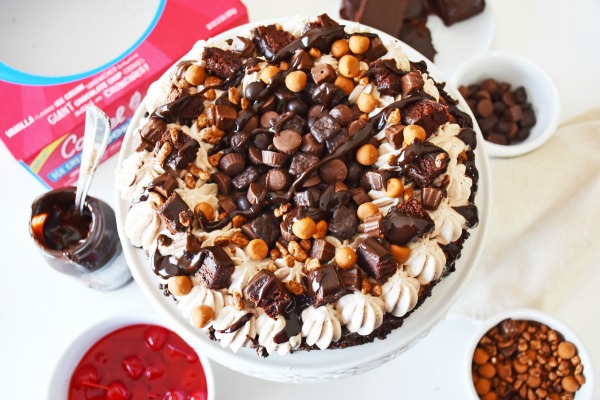 Holiday Cake Ideas
Spoon melted white chocolate melting drops over your ice-cream cake and then garnish the top with sugared cranberries and rosemary sprigs to create a truly elegant dessert. No mistle-toe required. For additional tutorials, we have rounded up our favorite Holiday Ice Creak Cake Hacks.
More Holiday Dessert Ideas
One very simple idea for adding holiday flair to your ice-cream sandwiches is to roll the edges in brightly colored sprinkles. Red and green, blue and white, orange and black—there's a color combination out there suited to any celebration. Changing out the cookie flavor is another way to vary this recipe. Fudge cookies, sugar cookies, chocolate chip cookies, and even gingerbread cookies can all be sandwiched with softened ice-cream cake to create unique and festive confections for any holiday celebration. Your imagination is the limit.
---
Mocha OREO® Ice Cream Sandwiches
The holidays usually bring an abundance of desserts. While leftover ice-cream cake is always a rarity, you're might find yourself with a few leftovers around the holidays. Here's a recipe for mocha ice-cream sandwiches that'll bring any leftover ice cream cake back to life.
You'll need the following:
1/2 OREO® Ice Cream Cake
8 tablespoons unsalted butter, melted and cooled until slightly warmer than room temperature
1/2 cup granulated sugar
1/4 cup packed light brown sugar
1 teaspoon vanilla extract
1 large egg
1-1/2 cups white flour
1/2 cup unsweetened cocoa powder
2 teaspoons espresso powder
1/2 teaspoon baking soda
1/4 teaspoon salt
1/2 cup chocolate chips
Step by step instructions
Pre-heat oven to 350-degrees.
In a large bowl, combine dry ingredients.
In a mixer on low, mix melted butter and sugar together until light and creamy. Mix in the egg and vanilla.
Slowly add in dry ingredients until you get a crumbly dough texture. Stir in chocolate chips and mix for 10 more seconds.
Divide the dough into 12 evenly sized cookies. Roll pieces into balls and place on a greased or lined baking sheet about 2 inches apart.
Bake for 10-12 minutes. Remove from the oven and allow cookies to cool on the baking sheet for 15 minutes. Cool completely before assembling sandwiches.
Remove the ice-cream cake from the freezer, slice into 6 pieces, and add to a mixing bowl. Stir to mix and combine until softened.
Place one scoop of softened ice-cream cake onto the flat side of one mocha cookie. Place a second mocha cookie on top of the ice cream to form a sandwich. Do not press. Repeat to form 6 ice-cream sandwiches.
Serve immediately or freeze for later! Enjoy!
Try an Ice Cream Cake Today
It's time to add an ice-cream cake to your holiday menu! We're confident you and your guests will be delighted by any and every ice-cream cake creation you come up with. Shop online with our Product Locator to find a retailer near you or to have a cake delivered to your door.
Summary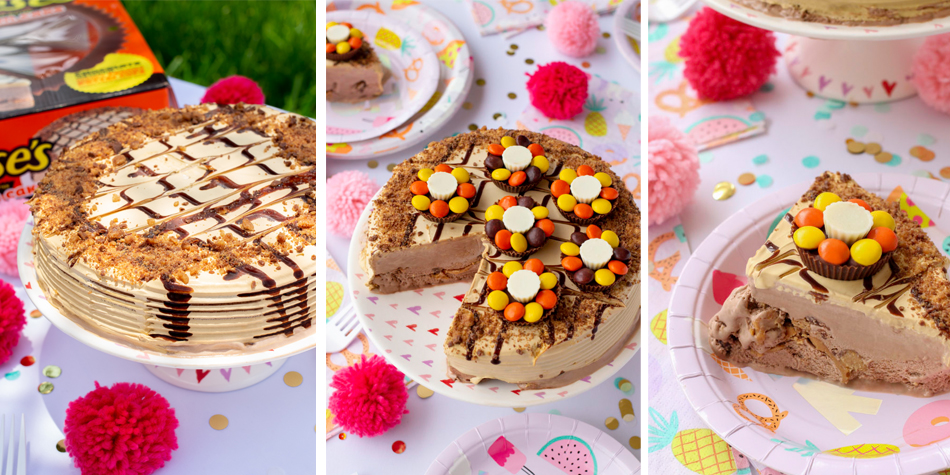 Article Name
Easy Ice Cream Cake Recipes for the Holidays
Description
Easy Ice Cream Cake Recipes for the Holidays
Publisher Name
Publisher Logo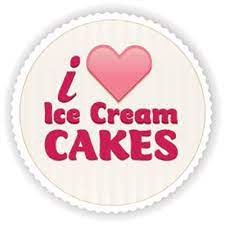 Not sure where to shop? Find ice cream cakes online or at a grocery store near you.
Use our product locator