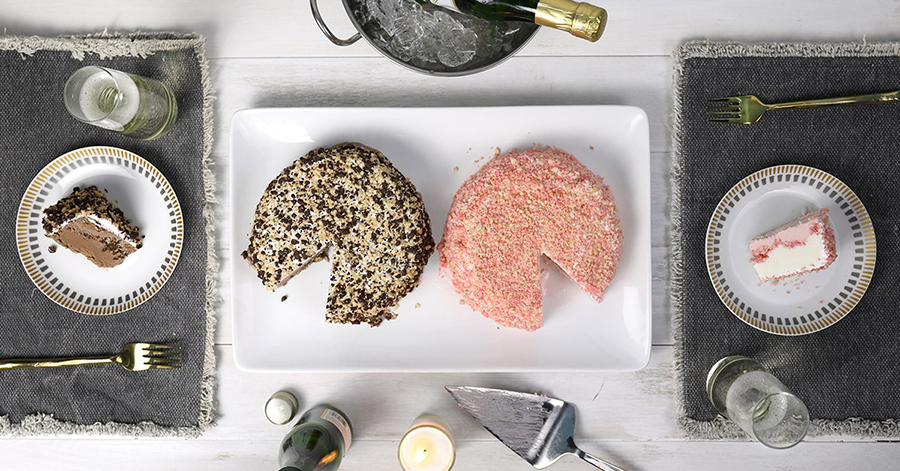 What Are the Crunchies in Carvel Ice Cream Cake?
If you've ever had a Carvel Ice Cream Cake, you may have noticed our signature "crunchies." They adorn many of our creations and are often found layered between ice creams. Have you ever wondered what those delicious morsels are? What makes them so delicious? Why do you crave those crunchy crunchies?
Here's the Secret
Those chocolate crunchies are made using the same delicious cookies from our Flying Saucer Ice Cream Sandwiches. This ain't no ordinary cookie crumble. This is a patented Carvel delicacy at its finest. The crumbled Flying Saucer cookies are mixed with chilled chocolate sauce to create the signature chocolatey flavor you know and love. And there you have it. Just a few irresistible ingredients are all it takes to make your favorite Carvel Ice Cream Cakes pop.
How It Works
Let's dig a little deeper into the center layer of the ice cream cake. First, Carvel smashes up the cookies for the ice cream cake. Then, the crumbs are mixed with tasty hardening chocolate sauce which allows the crumbs to be sealed up, like in a chocolatey space suit. Flying Saucers are great on their own, but these scrumptious vessels take our ice cream cakes out of this world.
Making Your Own Crunchies
If you're feeling adventurous and want to make your own crunchies, here's a quick guide:
– Crumble up your favorite chocolate sandwich cookies in a bowl with your hands. If you want smaller pieces, a food processor or blender should do the trick!
– Once the crumbled cookies are in a bowl, pour hardening chocolate sauce into the bowl.
– Mix it all up, let it harden and you're ready to go!
While it might not be exactly like Carvel's delicious concoction, you'll still have a great tasting treat you can use with just about anything (or just eat entirely on its own, we won't judge).
Grab a Carvel Lil' Love Chocolate Ice Cream Crunchie Cake
The original Carvel chocolate crunchies crumbs are so mouthwatering you might want to scoff them by the handful, but they really start to sing when you put them inside of an ice cream cake. There's nothing quite like biting into a delicious Carvel Ice Cream Cake with mouthwatering chocolate crunchies neatly tucked away between each layer! Carvel also makes a Lil' Love Strawberry Ice Cream Crunchie Cake and an amazing Carvel Double Crunch Ice Cream Cake. Yum!
Craving crunchies? In most areas, you can have Carvel Ice Cream Cakes delivered. Use our Product Locator to find ice cream cakes for delivery near you.
Summary
Recipe Name
What Are the Crunchies in Carvel Ice Cream Cake?
Published On
Preparation Time
Total Time
Not sure where to shop? Find ice cream cakes online or at a grocery store near you.
Use our product locator